The strong commitment of Prime Minister Pham Minh Chinh at COP26 (2021) marks a breakthrough in the development model toward "net-zero" emissions. To achieve the above goal and contribute to the target of keeping the global temperature increase at 1.5oC set by the Paris Agreement in 2015, Viet Nam and many countries around the world are making great efforts to limit the use of fossil fuels as well as increase investment and use of renewable energy in all activities of the economy. The International Renewable Energy Certificate (I-REC) is one of the standards being widely applied to encourage investment and use of renewable energy and support the transformation of the green energy sector.
I-REC is a type of Energy Attribute Certificate (EAC) issued to certify a certain amount of electricity produced from renewable energy source (1 I-REC represents 1 MWh of renewable electricity). Besides I-REC, the global EAC system also has 2 other types of renewable energy certificates including: 1) Guarantee of Origin (GO) certificate used in the European Union energy market; 2) Renewable Energy Certificates (REC) are used in the US and Canadian energy markets. I-REC is used in countries and regions that do not have a green energy certification system such as Africa, Asia, South America, etc.[1] Some countries such as Australia or Japan also have their own certification system[2].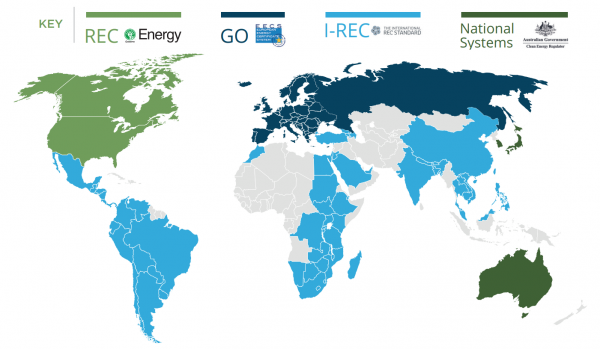 Like other EACs, I-REC allows businesses to demonstrate that the electricity they produce and put on the grid comes from renewable sources, which distinguishes them from other non-renewable energy sources that also enter the grid. Therefore, the suppliers of the I-REC are usually renewable power producers, while the buyers of the I-REC are electricity consumers with the desire to reduce indirect emissions from electricity consumption (Scope 2 emission) or have a goal of using 100% renewable energy.
I-REC are built based on the best practice of REC and GO Certificates since 2014 and are recognized by international sustainability standards such as Greenhouse Gas Protocol Scope 2 Guidance, RE100, CDP, ISO… Each I-REC not only represent 1MWh of renewable energy generated but also include the environmental benefits of this renewable energy. A digital tracking system allows parties participating in the I-REC Standard to track renewable energy attributes from the point of production to the point of consumption as end-user[3] and to ensure transparency and avoid double counting when exchanging I-REC on the carbon market.
To develop and register for an I-REC project, the registrant must strictly follow the steps outlined by the I-REC Standards Foundation (including 9 project development steps) as well as provide the necessary information and data (e.g. renewable energy generator equipment information, actual electricity production data audited by a third party, etc.). In addition, in order to ensure a level playing field for all parties, each participant (including participants and registrants) must pay the fees for the services provided by the I-REC Standards Foundation.
Currently, I-REC are available in 51 countries with 63 million MWh of I-RECs issued in 2021[4]. VNEEC with consulting experience combined with high-quality technical expertise has been providing support services for the success of 14 I-REC projects with more than 800,000 certificates issued promoting renewable energy development.
Tran Hong Thanh
Sources:
[2] I-REC_Factsheet.pdf (naturalcapitalpartners.com)
[3] https://www.irecstandard.org/download/i-rec-guide-how-i-rec-works/
[4] International REC Standard Foundation.
6,152 views, 7