On 16 May 2023, representatives from Energy and Environment Consultancy Joint Stock Company (VNEEC) and Green Climate Innovation Company Limited (GreenCIC) had a meeting with a  delegation from the Singaporean Prime Minister's Office on cooperation potential under Article 6 of Paris Agreement.
The delegation from the Singaporean Prime Minister's Office led by Mr. Benedict Chia, Director General (Climate Change) from the National Climate Change Secretariat (NCCS) discussed with experts from VNEEC and GreenCIC about: the newly promulgated National Power Development Plant for 2021-2030 period with vision to 2050 (PDP IIIV) and whether Viet Nam is on track to meet the unconditional target of the Nationally Determined Contribution (NDC), global demand for carbon credits and trend in Viet Nam, challenges in development of nature- and community- based carbon projects such as cook-stoves, forestry, etc.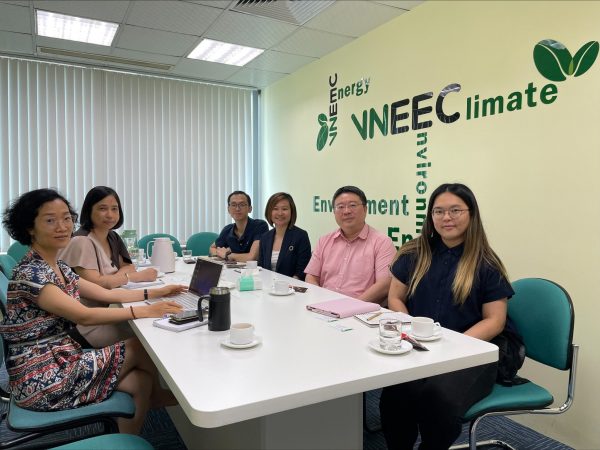 Photo: Tran Thanh
The parties also discussed the cooperation potential between Viet Nam and Singapore under Article 6.2 and Article 6.4 of the Paris Agreement, potential types of projects, criteria for project selection and mechanisms to ensure additionality and contribution to NDC.
The Singaporean showed interest and willingness in cooperation with their Vietnamese counterparts in development and purchase of carbon credits from high-quality projects in order to effectively support the effort of Viet Nam to meet the conditional target of the NDC. The credits transferred between the two countries shall need to meet certain criteria, especially the corresponding adjustments with the national inventory.
Viet Nam and Singapore had signed on a Memorandum of Understanding on cooperation under Article 6 of the Paris Agreement on 17 October 2022 in Hanoi. The Government of Viet Nam is focusing the effort to develop regulations for management of carbon credits to attract climate finance from domestic and international sources for achievement of the country's NDC and the net-zero emission target by 2050.
Compiled by Nguyen Loan
850 views, 4