On July 12, 2022, VNEEC was invited to attend and present research and analysis results at the Workshop " Mobilizing Resources for Green Growth through Carbon Credit Exchange and Offsetting Activities in Vietnam" organized by the Ministry of Planning and Investment in collaboration with the Global Green Growth Institute (GGGI) with funding from the Norwegian Government.
To implementation of the tasks assigned in Decision No. 1658/QD-TTg dated October 1, 2021 of the Prime Minister approving the National Strategy on Green Growth for the 2021-2030 period, with a vision to 2050, the purposes of the workshop was to increase the understanding for stakeholders about the carbon market and the methods of exchange and offset carbon credits in the international market to promote the mobilization of resources for green growth.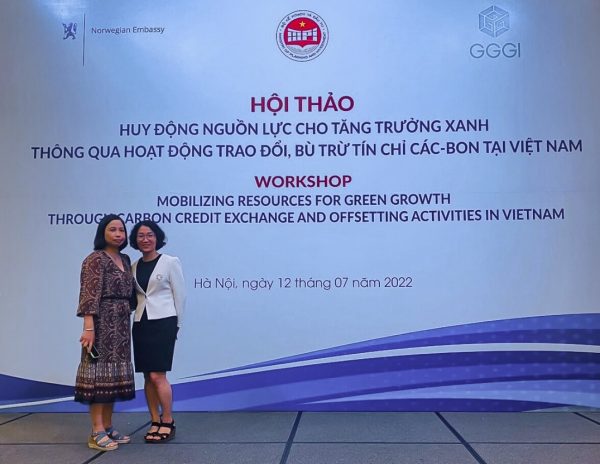 Ms Dang Hong Hanh and Ms Nguyen Hong Loan at the workshop
GGGI is currently implementing a global carbon finance project funded by the Norwegian Ministry of Climate and Environment called "Designing Article 6 Policy Approaches" or DAPA in four countries, including Vietnam. In Vietnam, GGGI is working with the Ministry of Industry and Trade and other national stakeholders to define Policy Approaches, where the implementation of one or more policies can mobilize carbon finance under Article 6 of the Paris Agreement.
Ms. Dang Hong Hanh, Co-Founder of VNEEC and also GGGI's project consultant carried out this research in Vietnam. This study assesses and lists priority policies in the renewable energy sector that can lead to GHG emissions reduction as well as that are feasible in Vietnam. Base on the results, consultant will evaluate and propose the selection of pilot policy approaches to deliver "Internationally Transferable Mitigation Outcomes – ITMOs" under Article 6 of the Paris Agreement with the Norwegian partner.
At the workshop, Ms. Dang Hong Hanh presented the results of research and multicriteria analysis on carbon governance under Article 6.2 of the Paris Agreement through a report titled "Designing Article 6 Policy Approaches in Vietnam – A preliminary assessment of policy options", thereby making recommendations for potential policy approach selection activities for cooperation in the next phase within the framework of Article 6.2.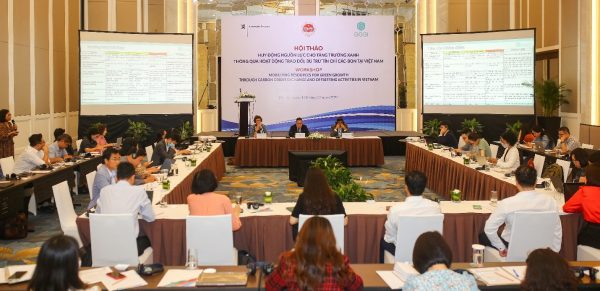 Ms Dang Hong Hanh presented the results of research at the workshop
Ms. Nguyen Hong Loan, VNEEC's Manager of Advisory, was invited to present an introduction and analysis on "Overview of carbon offsetting mechanisms in Vietnam and relevant lessons learnt". The report analyzed experiences and lessons related to the management and development of the legal and institutional framework as well as the development and implementation process of CDM/JCM projects in Vietnam.
The workshop was successfully held with enthusiastic participation and discussion from delegates from relevant ministries, sectors and agencies.
1,736 views, 3