On July 17, in Hanoi, within the framework of the project "Support for Planning and Implementation of the Nationally Determined Contributions in Vietnam" (SPI-NDC), funded by the Japan International Cooperation Agency (JICA), the Department of Climate Change (DCC) – Ministry of Natural Resources and Environment organized the training workshop on "GHG Emissions Inventory and Mitigation for Businesses in Paper & Pulp Sector", with the cooperation from VNEEC and PoA Carbon – the consulting companies of JICA. The workshop is part of the broader training series about greenhouse gas (GHG) inventory and mitigation for businesses under the SPI-NDC project. Previously, successful training series have been conducted for the cement, food & beverage, and waste management sectors.
During the workshop, Mr. Luong Quang Huy – Head of GHG Emission Reduction and Ozone Layer Protection Division, Head of the Department of Emission Mitigation and Ozone Layer Protection, DCC emphasized: Based on the Decision no 01/2022/QD-TTg on promulgation of lists of sectors and GHG emission facilities subject to GHG inventory development, signed by the Prime Minister on January 18, 2022, the pulp and paper industry is a major emitter. In line with the Vietnamese government's commitment to COP26, it is essential for all related ministries, manufacturers, and sectors to collaborate diligently to achieve national goals. This training workshop aims to provide essential support to businesses in fulfilling their new obligations and reporting requirements related to GHG emissions inventory and mitigation.
Globally, the pulp and paper industry stands as one of the five significant energy users, contributing around 2% to direct industrial emissions, equivalent to approximately 190 million tons of CO2 (International Energy Agency). In Vietnam, approximately 70 out of 1912 enterprises in this industry are mandated to conduct GHG inventory following Decision No. 01/2022/QD-TTg.
However, businesses still face several obstacles in adopting this new regulation due to the lack of knowledge and expertise on GHG inventory and mitigation. To address this, the workshop provided insights into the legal frameworks in reporting, GHG inventory and mitigation procedures for enterprises in the pulp and paper industry.
The workshop includes representatives from businesses in the paper & pulp sector and the Vietnam Pulp and Paper Association (VPPA). Notably, some businesses presented their initiatives related to sustainable development, circular economy, and GHG emission reduction such as Kraft of Asia (KoA), Kraft Vina, and technological-providing companies such as Kawasaki. They openly shared their best practices, lessons learned, and challenges faced, inspiring other businesses to adopt further initiatives toward achieving net-zero emissions. Additionally, various emission mitigation technologies for the paper & pulp sector industry, such as co-generation systems, transitioning to renewable energy (e.g., rooftop solar power, green hydrogen), and boiler-energy efficiency, were discussed at the workshop.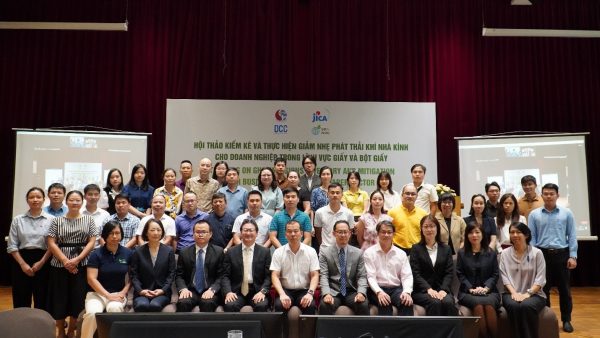 Under the guidance of Vietnamese and Japanese experts, the participants were provided with valuable knowledge related to GHG emissions inventory and mitigation in this industry. Furthermore, the participants gained hands-on experience through practicing calculation tools of GHG emissions and GHG emission reduction that are highly appreciated for their usefulness and user-friendly interface. These tools are expected to enhance enterprises' capacity and readiness for obligating reporting requirements related to GHG emissions, in compliance with related laws. The workshop well-equipped enterprises in the paper & pulp sector to develop specific guidance and roadmap towards achieving both industry and national goals in carbon reduction.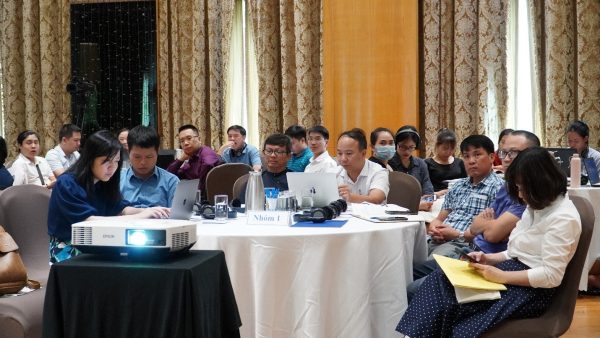 Linh Thuy
343 views, 3